A third of Karzai votes may be fraudulent, EU official says
The EU's monitor for Afghanistan election suggests that 1.1 million of the incumbent president's votes must be investigated.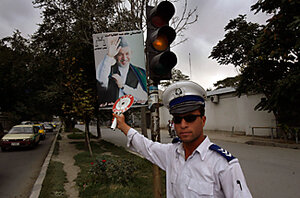 Manish Swarup / AP
The Afghan elections, already tainted by widespread accusations of misconduct and fraud, received another body blow Wednesday when the head of the European Union's election-monitoring commission said that as many as 1.1 million votes cast in the vote were "suspect."
The latest dark cloud over the Aug. 20 election came as Afghanistan's election commission released a preliminary vote tally Wednesday showing President Hamid Karzai with 54.6 percent of the votes cast – enough to avoid a runoff if the total stands up to one official recount already launched and to mounting doubts like those from the EU.
The EU's general depiction of fraud was bad enough. But even more damaging to the Western-backed government of President Karzai was the finding by Phillippe Morillon, head of the EU monitor, that more than one-third of the votes Mr. Karzai received in his reelection bid – 1.1 million of about 3 million votes for Karzai – could be fraudulent and must be investigated.
In addition to the preliminary vote total, the election commission concluded that turnout in the election was 38 percent – much lower than the 70 percent that voted in Afghanistan's first presidential election in 2004 and a number that is likely to feed doubts about the government's legitimacy.
Reaction from the Karzai campaign organization to the EU's pronouncement was swift and hinted at a growing frustration with outside influences in Afghanistan. Antiforeign sentiment was inflamed earlier this year over rising civilian casualties from NATO military operations in the country, and now it has spiked again in recent weeks as Western governments and international NGOs have ratcheted up criticism of last month's election.
---