Fallout from Honduras's presidential crisis – in Washington
The military ouster of Honduras's president, Manuel Zelaya, has led to a deep divide between Democrats and Republicans.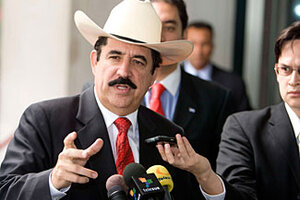 Larry Downing/Reuters
The military ouster of Honduras's president in June has led to deep ideological fissures, paralysis in a legislative committee, and efforts to undermine national foreign policy.
And no, that's not a sampling of what's happening in the Honduran capital of Tegucigalpa, but rather in Washington, where a deep and cranky divide has formed between Democrats and Republicans over what most Democrats call a "coup" in America's backyard.
Honduras thus becomes another entry on a long list of Latin American countries that have served as Olive Oyls to Washington's left-right tug of wars.
"There's a time-honored history of members of Congress turning to Latin America to play out their ideological differences with each other and with the White House," says Daniel Erikson, senior associate for US policy at the Center for Inter-American Dialogue in Washington. "It's an easy place to play politics from the perspective of Congress because it's not seen as an area of vital national security interest, as Afghanistan or the Middle East or Asia would be."
---