Afghanistan war decision: how Robert Gates thinks
Pentagon chief Robert Gates is the swing vote in Obama's decision on the Afghanistan war.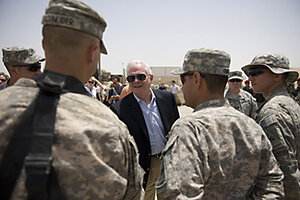 Jim Watson/AP
On one of Bob Gates's first trips to the Iraq war theater after accepting the job as Defense secretary in 2006, he walked a dusty "boneyard" in Kuwait filled with row upon row of the remains of military trucks damaged by roadside bombs and seemed to hear the ghosts of the soldiers the trucks had failed to protect.
The vehicles, recalls a senior adviser who accompanied Mr. Gates, "looked like they'd been mangled by the hand of a giant child." The shredded metal seemed to be a reminder of the billions the Pentagon was spending on the war while failing to adequately protect its own troops – and Gates was intensely moved. Mary Beth Long, the official accompanying him that day, jotted down just two words about her boss: "silent" and "determined."
The episode reinforced for the secretary what had to be done. He went home resolved to put life-saving, bomb-resistant trucks in the hands of troops within months. And he did, in record time, by overhauling the Pentagon's byzantine acquisition process. Within five months, the Pentagon had sent nearly 1,200 of the new trucks to Iraq, thanks to an expedited acquisition program that shaved years off the process.
---