North Korea can now build one more nuclear bomb
North Korea said Tuesday that it has reprocessed 8,000 nuclear fuel rods – perhaps enough to build another nuclear bomb. US officials say this was a violation of North Korea's commitments to nuclear disarmament talks.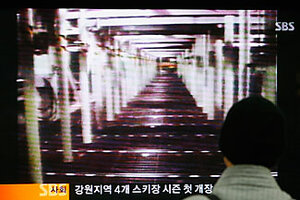 Ahn Young-joon/AP
Has North Korea just become a bigger nuclear threat?
Strictly speaking, that might be the case. On Tuesday, North Korea's official news agency reported that the country had finished reprocessing 8,000 spent nuclear fuel rods. Those rods likely provided enough plutonium for at least one nuclear weapon.
"What their provocative behavior over the last few years has shown is that slowly but surely they are improving their technological capabilities," says Nicholas Szechenyi, an East Asian expert at the Center for Strategic and International Studies. "If indeed they have reprocessed this additional fuel, you have to take the threat seriously."
North Korea has already carried out two nuclear tests, one in 2006, and one in May of this year. Prior to Tuesday's announcement, Pyongyang had a stockpile of 30 to 50 kilograms of plutonium, according to the US Congressional Research Service. That is enough for five to eight nuclear devices.
North Korea is so poor that it is unable to feed its population on a regular basis. Western visitors have noted that the buildings at its Yongbyon nuclear complex are largely unheated, to save on fuel. But that does not mean its nuclear scientists are unskilled, or its weapons technologies backward.
Former Los Alamos National Lab director Siegfried Hecker has visited North Korea five times. He has noted that morale among nuclear scientists and officials seems high.
"All of our [North Korean] hosts projected an attitude of pride and confidence," wrote Mr. Hecker after a 2006 trip to Yongbyon.
---