UN General Assembly to take up Goldstone report on Gaza war crimes
Allegations of war crimes by Israel and Hamas in Gaza last winter, outlined in Goldstone report, come before the UN General Assembly on Wednesday.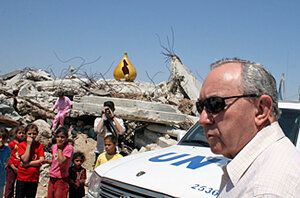 Ashraf Amra/AP/File
The United Nations General Assembly on Wednesday takes up a UN human rights report that accuses Israel of committing war crimes in last winter's military offensive into Gaza.
Known as the Goldstone report, the investigation commissioned by the much-maligned UN Human Rights Council threatens to widen the gulf between the majority of Arab and developing countries that support the report and the mostly Western countries, including the United States, that have condemned it.
The General Assembly appears poised to pass the hot-potato Goldstone report to UN Secretary General Ban Ki-moon for further action, despite critics' warnings that keeping it on the international agenda is incendiary and may snuff out any hope of restarting Middle East peace talks.
A draft resolution by Arab foreign ministers calls on Mr. Ban to report back to the General Assembly in three months on whether Israel and Hamas, also accused of war crimes in the report, have undertaken internal investigations into their own actions during the three-week war.
The draft resolution also instructs Ban to submit the Goldstone report to the Security Council – potentially for submission to the International Criminal Court in The Hague.
---