US cool to bald declaration of an independent Palestine
US warns of 'unilateral' actions by either side: Palestinians declaring an independent Palestine or Israel expanding Jewish settlements in Jerusalem.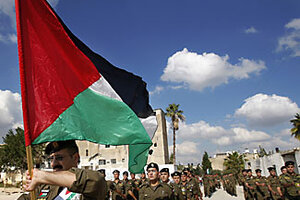 Nasser Ishtayeh/AP
The crash-landing of President Obama's high-profile push for Israeli-Palestinian peace talks has resulted in one idea almost no one seems to like: that the Palestinians simply declare their long-envisioned and much-discussed state of Palestine.
But some influential Palestinians (and even a few Israelis) are floating some variation of the idea of moving quickly – in a year or two or less – to a declared independent Palestine, and working out the details from there.
The Palestinian proposal is being raised in foreign capitals just as the White House issued one of its harshest rebukes of Israeli actions, saying it is "dismayed" at plans approved Tuesday for Israeli settlement construction in Jerusalem.
The idea for simply declaring a state of Palestine is born largely of the frustration of the Palestinians' Fatah leadership over the lack of any progress towards the vaunted "two-state solution" – and within the reality of the inexorable march of Israeli settlements in the occupied West Bank.
No international backing for the idea
Yet as logical as the proposal may seem to some, no one from the international community is jumping to endorse it.
The European Union this week called the idea "premature" and the United States is expected to smother it if the idea advances to the United Nations Security Council.
---