Isolationism among Americans is at highest level in 40 years
Almost half say the United States should 'mind its own business,' a Pew survey shows. War-weariness and economic concerns are pushing isolationism to 40-year peak.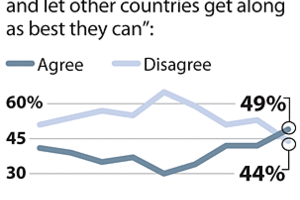 MCT
If President Obama is looking for something that transcends the national divisions over healthcare reform and Afghanistan policy, he might try isolationism.
Roughly half of Americans now say the United States should "mind its own business" and let other countries hash out problems on their own, according to a new poll by the Pew Research Center for the People and the Press.
The survey, conducted every four years with the Council on Foreign Relations among CFR members and the general public, finds America's perennial inward-looking strain at its highest level since pollsters first queried Americans about isolationist tendencies in 1964. Back then, just 18 percent of Americans supported a "mind our own business" approach. Today, it's 49 percent.
The sour economy is one explanation for the isolationist spike, but so is disappointment and fatigue over the results of eight years of aggressive foreign policy under President Bush, analysts of the public's views of the world say.
"The American public is focused on the bad economy, and is feeling badly about the world," with US troops in two wars and concerns about terrorism, says Andrew Kohut, director of the Pew Research Center.
---