Rajiv Shah takes helm of USAID as foreign aid is set to expand
Senate confirms Rajiv Shah, a food security expert, to head USAID, a key development agency. One task: help devise a strategy for infusion of new foreign aid to Pakistan and Afghanistan.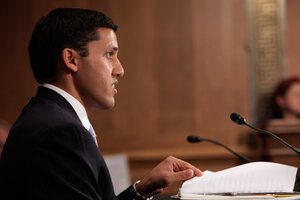 Pablo Martinez Monsivais/AP
America's top international aid and development agency got a Christmas present Thursday when the Senate confirmed President Obama's nomination of Rajiv Shah, a medical doctor and food security expert, to head the US Agency for International Development.
The Senate, although focused on its landmark healthcare overhaul vote, underscored the importance of getting the nation's foreign aid house in order by taking time on Christmas Eve day to confirm Dr. Shah. Unlike the healthcare legislation, which received a strictly party-line vote, confirmation of the Department of Agriculture official won bipartisan support.
Shah takes the helm of USAID, which has been without a chief since the outset of the Obama administration, at a crucial moment. US foreign assistance is expected to double to more than $50 billion a year over the next half-decade, in particular with boosts in development outlays to Afghanistan and Pakistan. But at the same time, USAID enters the period of growth a weakened agency, having lost its independence and having been incorporated into the State Department in a post-cold-war reorganization of foreign aid.
As USAID lost influence during the past decade, US development assistance policy and dollars were dispersed to dozens of other agencies, in particular the Department of Defense. Multiple agencies were sometimes found to be working at identical tasks – or even occasionally at cross purposes, government and private-sector investigations determined.
---