China stalls UN effort to sanction Iran over nuclear program
The United States is expected Saturday to push for more sanctions against Iran, as Tehran refuses to discuss its nuclear program. But China signals it will resist the idea, especially if new sanctions will be targeted at agents clamping down on the Iranian protest movement.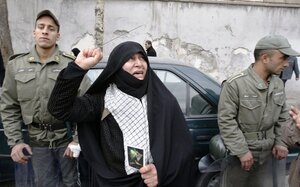 Vahid Salemi/AP
President Obama may have moved his foot to the accelerator regarding sanctions on Iran over its nuclear program. But a skeptical China is countering his shift by applying the brakes.
World powers meet Saturday in New York to consider a new round of economic sanctions on Iran over its continuing pursuit of nuclear technology – a process Western countries believe is aimed at producing a nuclear weapon. But China is signaling its dim view of sanctions by announcing it will send a low-level representative to the meeting. That makes prospects for action by the United Nations Security Council any time soon appear weak at best.
Mr. Obama recently saw his deadline come and go for Iran to respond positively by the end of 2009 to calls for talks on its nuclear developments.
Saturday's meeting is a result of Iran's silence on negotiations – with Secretary of State Hillary Rodham Clinton saying recently that the weekend discussion would take up "the kind and degree of sanctions we should be exploring."
China sending low-ranking official
---