Aid after Haiti earthquake: President René Préval sees need for shift
Almost two months after the Haiti earthquake, President René Préval is in Washington to outline his plan for the kind of aid Haiti needs next. It includes seeds and fertilizers for this summer's crops.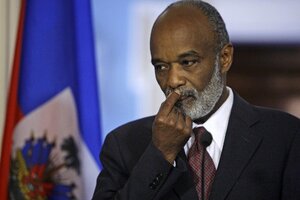 Haraz N. Ghanbari/AP
Haiti's President René Préval visits the White House Wednesday to thank the United States for the hundreds of millions of dollars in aid provided since his country's ruinous earthquake Jan.12. But he's also coming to ask that continuing assistance not make matters worse.
Instead of more food donations, for example, Mr. Préval would like to see seeds coming into his country. Long-term debt relief is good, he will say, but cash to repair drainage systems and get schools up and running again will have a more immediate impact.
Préval's visit, his first meeting with President Obama, comes as Haiti's earthquake has fallen off front pages but as officials and members of Congress formulate plans for Haiti's long-term revival and reconstruction. (Envisioning a new Haiti. Monitor report here.)
The temblor, considered by the Inter-American Development Bank to be "the most destructive natural disaster in modern times" given Haiti's population and economy, left more than 220,000 Haitians dead and caused an estimated $14 billion in damage.
Donors conference at the United Nations
The White House, which is preparing to ask Congress for more than $1 billion in additional aid for Haiti, wants to demonstrate Mr. Obama's commitment to the Haitian people and also to drum up support for the international donors conference for Haiti, which the US will host at the United Nations in New York March 31, officials say.
---