North Korea hostility toward the South puts China in a spot
Secretary of State Hillary Clinton goes to South Korea Wednesday. But Friday's visit to Seoul by China's premier may do more to determine whether tensions keep rising between North Korea and South Korea.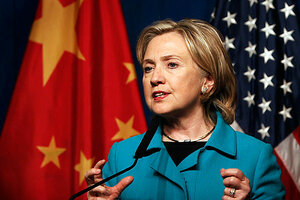 Andy Wong/AP
Secretary of State Hillary Rodham Clinton visits South Korea Wednesday to express American support for Seoul in its escalating crisis with North Korea. But it may be another visit to the South Korean capital – by Chinese Premier Wen Jiabao on Friday – that does more to determine whether tensions continue to rise between the two Koreas.
US support for South Korea was never in doubt. But China – which values its ties to each of the Koreas, though for different reasons – will be watched for its ability, as a rising regional and global power, to navigate a tricky situation.
Premier Wen will encounter a South Korea unhappy that Beijing has not publicly condemned North Korea for the March sinking of the South Korean warship Cheonan, which killed 46 South Korean sailors. China's first priority is to avoid a destabilization of North Korea that could send thousands of refugees over the border from its impoverished and backward neighbor, Asia analysts say. But China also wants to avoid damaging its growing economic and cultural ties to the much more dynamic South.
---