Cuba travel ban: White House poised to ease restrictions
The expected order from President Obama would not fully lift the Cuba travel ban, but it would ease the stricter rules put in place during the Bush years. Many expect an announcement by Labor Day.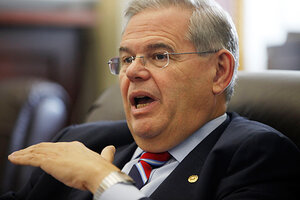 Charles Dharapak/AP/File
Expectations are rising that the Obama administration will move in the coming days to ease travel restrictions to Cuba.
The hubbub about an anticipated White House statement is leading to stepped-up speculation about areas of potential exchange and trade with the long-embargoed Caribbean island, such as energy development.
"Right now they [in the White House and the State Department] are just fine-tuning what they are going to be putting out," says Sarah Stephens, executive director of the Center for Democracy in the Americas in Washington.
Insisting an executive order about Cuba travel "is a done deal," Ms. Stephens says, "It's going to look very much like what the conditions for travel were under President Clinton, with the emphasis on 'people to people exchange,' " possibly including religious and academic groups. [Editor's note: The original version was changed to better reflect what Stephens said.]
After that, she adds, "It will be interesting to see what happens around the edges, with business and other groups."
The White House has been sending out trial balloons suggesting presidential action on Cuba travel – enough to get a reaction from Cuba hardliner Sen. Robert Menendez (D) of New Jersey, who issued a statement earlier this month saying, "This is not the time to ease the pressure on the Castro regime."
---