Obama, drubbed at polls, now dropped from top spot in global power ranking
While Forbes magazine still terms President Obama the 'Leader of the Free World,' the title of most powerful now goes to China's Hu Jintao.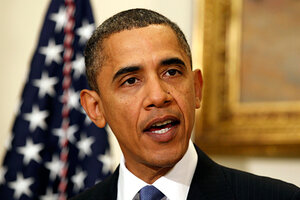 Kevin Lamarque/Reuters
Just in case President Obama wasn't feeling deflated enough by the drubbing he got in Tuesday's midterm elections, now there's this: Forbes magazine has decided he's no longer the world's most powerful person.
That would be Hu Jintao, president of China, the American business magazine declares in its annual "most powerful" global ranking this week.
Mr. Obama, whom Forbes grants still holds the unofficial title of "Leader of the Free World," fell to No. 2 in the power rankings – behind the leader of the world's most populous (and a rare remaining communist) nation – after occupying the top slot last year.
Saudi King Abdullah jumped six places to land the No. 3 position, while Russian Prime Minister Vladimir Putin fell one notch to No. 4 this year. Pope Benedict XVI is No. 5.
Forbes editors say they based their elevation of Mr. Hu on the fact that he is leader of one-fifth of the world's population, that he presides over the world's largest army, and that under Hu, China has rocketed to second place on the list of the world's largest economies, with no signs of throttling back.
The magazine also pays homage to Hu's extraordinary power at home, noting that "Hu can divert rivers, build cities, jail dissidents and censor [the] Internet without meddling from pesky bureaucrats [and] courts."
---