US wants assurances that Egypt transition talks aren't a sham
President Obama reiterates his call for the political transition in Egypt to begin now and to include 'a broad representation' of the opposition. The talks did not get off to a promising start Thursday.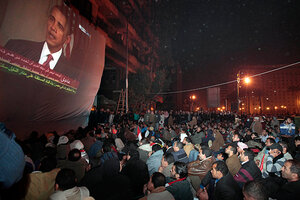 Lefteris Pitarakis/AP
President Obama on Friday repeated his position that Egypt's path forward must be determined by the Egyptian people – a statement that seemed designed in part to dampen speculation that the US has demanded privately that Egyptian President Hosni Mubarak leave office now.
But Mr. Obama did lay down some markers for the months of transition that lie ahead, and among them was a pointed insistence that not only must the transition begin now, but that the talks and deliberations that will define Egypt's future must include all sectors of the country's political and social life.
Without directly saying so, Obama – who has been walking a tightrope between Egypt's protesters and America's longtime friend, Mr. Mubarak – suggested the US has concluded that the reality on the ground means that a "meaningful" transition can only occur with Mubarak out of power. He said he hoped that Mubarak, who "cares about his country" and is "also a patriot," would "end up making the right decision."
The US president's emphasis was on a transition that starts now and includes all Egyptians. "Negotiations [for Egypt's political reform] should include a broad representation of the Egyptian opposition," Obama said in brief comments to the White House press.
---
Follow Stories Like This
Get the Monitor stories you care about delivered to your inbox.