Is Obama's tough talk enough to help Iran's protesters?
President Obama on Tuesday chastised Iran for seeking to stifle protesters with beatings and tear gas. Some critics say he needs to act more forcefully against Iran's theocratic government.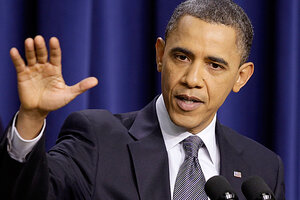 Charles Dharapak/AP
President Obama on Tuesday spoke carefully about demonstrations in Iran, lending support to peaceful Iranian protesters but refraining from calling for the overthrow of the current Tehran regime.
It's ironic that Iran's leaders have celebrated the Egyptian revolution that brought down Hosni Mubarak, while in turn beating and tear-gassing those in their own country who want political change, said the US chief executive. In recent days, tens of thousands of Iranians inspired by events in Egypt have taken to the streets, but security forces have responded with violence, leaving dozens injured and at least one demonstrator dead.
"My hope and expectation is that we're going to continue to see the people of Iran have the courage to be able to express their yearning for greater freedoms and a more representative government, understanding that America cannot ultimately dictate what happens inside of Iran any more than it could inside of Egypt," said Mr. Obama at a White House press conference.
Should the US respond more forcefully to what's happening in Iran? Some critics say yes, arguing that the White House is fumbling an opportunity to take a clear stand in favor of uprooting Iran's theocratic government.
---