Obama weighs 'full range of options' for Libya's Qaddafi
President Obama condemns the Libyan government's violence and criticizes their claims that the uprisings in Libya and across the region have been driven by foreign powers.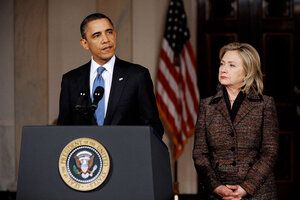 Olivier Douliery/Abaca Press/MCT/Newscom
As Libya's Muammar Qaddafi showed no signs of halting the violent repression of his regime's opponents, President Obama said Wednesday the US is considering a "full range of options" for pressuring the Libyan leader.
In a brief White House statement Wednesday afternoon, Mr. Obama called the Libyan government's violence against its own citizens "outrageous" and said the US would consider both unilateral and multilateral actions to send a message "to the government and people of Libya."
Obama announced that he is dispatching Secretary of State Hillary Rodham Clinton to Geneva on Monday to participate in a session on the Libyan crisis at the United Nations' Human Rights Council.
And while he left the door open for specific national measures, the president emphasized that the focus of US action will be with allies and multilateral organizations such as the UN, so that the "international community" is sure to "speak with one voice." Secretary Clinton will also meet with European Union and Arab League counterparts, on Libya specifically and "on events throughout the region," Obama said.
While Obama did not give any specifics on possible measures, State Department officials said earlier Wednesday that the US is considering a number of options, including economic sanctions.
---