Answering the world's growing water problem
The number of people around the world without access to clean water is growing. The answer may not be huge dams but rainwater collection and other micro-projects involving families and communities.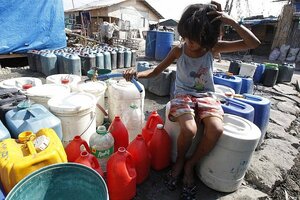 Romeo Ranoco/Reuters
The portion of the global population living in conditions of at least moderate stress involving water – everything from conflict over access to failing traditional sources and lack of access to clean water – will rise to two-thirds by 2025.
In other words, two of every three people on the planet will have some form of a water problem, experts say.
Yet as grave as that scenario sounds, specialists gathered at an international water summit in Washington Friday emphasized that even a world of reduced development-assistance budgets has the tools to vastly improve – if not solve – the coming global water challenge.
IN PICTURES: World Water Day 2011
Among the keys to addressing the water challenge will be sustainability, conservation, technological innovation, and local solutions.
Out: giant hydro dams and other one-stop – and prohibitively expensive – solutions to a developing nation's challenge.
In: rooftop rainwater collection and other micro-solutions that involve families, communities, and the small-scale private sector.
"The problem is not so much scarcity, but management," said Maria Otero, the US under secretary for democracy and international affairs, speaking at the summit. "Even in the driest regions of the world," she added, "we can achieve water security with the right water management."
The summit was sponsored by two historic Rotary Clubs: Washington's, which is about to celebrate its centennial; and the Rotary Club Paris Academies, which has been meeting for over a half-century on Paris's Left Bank.
---