Misrata emerges as deadly test of NATO clout in Libya
The NATO-led coalition taking on Muammar Qaddafi's forces in Libya are trying to show they can be effective without the US in a leading role. But so far, they've been able to do little to stop the humanitarian crisis in rebel-held Misrata.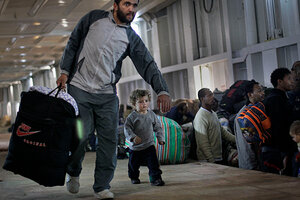 Ben Curtis/AP
An experiment is playing out in the Libya conflict to see if a global power other than the United States can lead an armed humanitarian intervention.
So far for the people of Misrata, the experiment is not going so well.
The only city in western Libya under rebel control is under siege from the forces of Muammar Qaddafi. And the international coalition's NATO-led campaign tasked with protecting Libyan civilians has failed to stop Colonel Qaddafi's rockets, mortars, and sniper fire.
One reason explaining NATO's lack of impact on Qaddafi's siege is that the international coalition does not have the kind of precision air power that could take out mobile weapons like tanks and rocket launchers, some military experts say. The US does have the kind of ground-attack fighters that could be more effective – the AC-130 and A-10 Warthog – but those have been pulled from the coalition arsenal as the Obama administration has opted to pull back to a support role.
---