Syria violence puts Obama in diplomatic, political tough spot
For Obama, the situation in Syria comes as the war in Afghanistan slogs along, the US tries to disengage from Iraq while escalating its military action in Libya, and the American public is weary of foreign entanglements with no apparent connection to national security.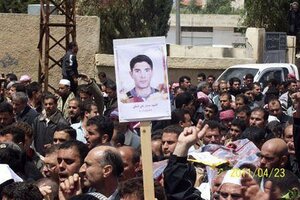 AP Photo
Escalating violence against prodemocracy demonstrators in Syria has put President Obama in a difficult spot, politically as well as diplomatically.
For too long, critics say, the United States – and Obama in particular – has treated Syrian President Bashar al-Assad as if he were a genuine reformer, when in reality he was following in his father's footsteps as an authoritarian despot quite willing to attack his own people if they pushed for greater political freedoms.
Friday was the worse day yet in some two months of protest, with at least 75 people killed by government forces, bringing the total to more than 200 – a number that could rise since many of the wounded have been prevented from reaching hospitals.
RELATED: How Syria and other countries use emergency rule to quash dissent
Saturday began with funeral mourners attacked as well, the number of those killed initially reported as a half dozen with the number rising throughout the day. There were also reports that children caught writing anti-Assad graffiti had been tortured.
In a statement late Friday, Obama "condemn[ed] in the strongest possible terms the use of force by the Syrian government against demonstrators."
---