Why is US so quiet as regimes crack down on 'Arab Spring' protesters?
State Department spoke Thursday of 'deep concern' about violence against protesters in Yemen. Meanwhile, tumult ensues from Syria to Libya. Critics: Obama has no real policy on 'Arab Spring.'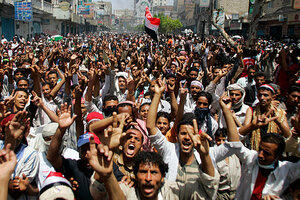 Khaled Abdullah/Reuters
The United States is "deeply concerned" about recent violence in Yemen against peaceful protesters, and it supports an agreement brokered by the Gulf states that envisions a "peaceful transition of power," the State Department said Thursday, in a statement.
The statement, which seemed to consciously avoid citing Yemeni President Ali Abdullah Saleh by name, nevertheless stood out. It was one public notation by the Obama administration of events in the Middle East, on a day when violence and conflict flared from Syria to Libya.
The relative dearth of reaction from Washington is causing speculation as to why the Obama administration is keeping so quiet.
To some foreign policy specialists, developments in the Middle East cry out for a US response. In addition to Yemen, Syrian forces continued their attacks on pockets of antigovernment protest – with some authorities predicting ominously that the end of the protests is near – and Libyan rebels claimed crucial territorial gains against the forces of leader Muammar Qaddafi as NATO renewed its bombardment of Colonel Qaddafi's compound.
---