Nations pledge $1 billion for Qaddafi foes, plan for a Libya without him
Donor countries pledged more aid for Libya's opposition council, during a meeting Thursday. But earlier pledges have not been met, and opposition leaders are pushing hard for access to Libya's frozen assets.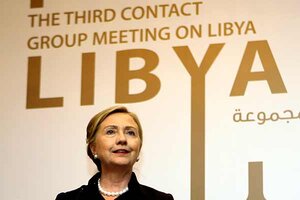 Kamran Jebreili/AP
Donor countries led by Italy pledged at least $1 billion in assistance to Libya's opposition governing council at a conference in Abu Dhabi Thursday.
The Abu Dhabi conference, the third meeting of the international Libya Contact Group, focused on two main themes: short-term humanitarian needs in the conflict-torn North African country and long-term planning for what attendees agreed will be a post-Qaddafi Libya.
As intense fighting continued on the ground between Libyan rebels and forces loyal to leader Muammar Qaddafi, representatives of Libya's Transitional National Council responded to the pledges of support with a wait-and-see stance. Representatives of the TNC, which sees itself as the legitimate interim government of a post-Qaddafi Libya, told the conference that Libyans would start to starve to death if $4 billion in food, fuel, and other essentials is not forthcoming.
TNC representatives also expressed frustration about nondelivery of earlier pledges. "Our people are dying," the TNC's finance minister, Ali Tarhouni, told reporters at the meeting, according to the Associated Press. "It's been almost four months now and nothing has materialized so far."
---
Follow Stories Like This
Get the Monitor stories you care about delivered to your inbox.