UN Security Council rebuke of Syria hailed as potential 'turning point'
The UN Security Council approved a statement Wednesday condemning human-rights violations in Syria. It contains no penalties, but it is significant as 'a clear and unequivocal condemnation,' the US ambassador to the UN said.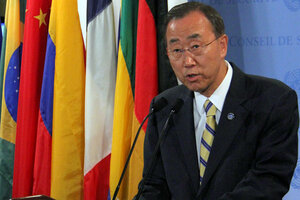 Newscom
The United Nations Security Council overcame deep divisions Wednesday to unanimously approve a statement condemning "widespread violations of human rights and the use of force against civilians by the Syrian authorities."
Expressing its "grave concern at the deteriorating situation in Syria," the 15-member council stopped short of mandating any specific action by the international community to address the crisis. But it did call on Syrian authorities to grant full and unimpeded access to international humanitarian and human-rights agencies.
The council's action took the form of a "presidential statement," which is a step below a resolution. A resolution usually contains specific actions – like sanctions or authorization for outside intervention.
The four European countries currently on the council had resuscitated a draft Syria resolution on Monday after Syrian authorities launched bloody assaults Sunday against protesting civilians. But unabated resistance to a resolution from some council members – Russia and China, in particular – led to Wednesday's compromise statement.
After the vote, the US ambassador to the UN, Susan Rice, insisted that the statement was no compromise and that the importance of the council's action is that its unanimous vote sends a unified message to Damascus.
---