After Qaddafi: Can a democratic Libya unify a divided society?
After Qaddafi, some say prospects for orderly transition in Libya – a traditionally divided, tribal society – are not good. There is hope, however, that the homegrown nature of the rebellion will improve the country's prospects.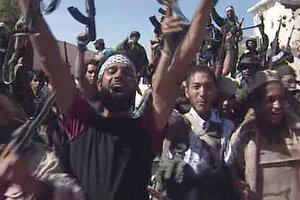 APTN/AP
The death Thursday of ousted Libyan leader Muammar Qaddafi ends speculation about the former dictator's lingering power and fully shifts the spotlight to the country's new leadership and its ability to govern all Libya.
A central question for Libya and indeed for the Arab Spring will now be this: Can a democratic and representative government stabilize and unify a historically divided society in the absence of the kind of authoritarian rule that kept Libya together for four decades?
Historical precedent would suggest that the prospects for Libya – a tribal society traditionally divided between the east, where the now-ruling opposition sprang up, and the west, where Colonel Qaddafi was in full command – are not good, some political scientists who have studied political transitions say.
Yet one factor that Libya has going for it, they add, is that Libyans largely threw off their shackles on their own (albeit with assistance from NATO) and will not be trying to sustain a "democracy" imposed from the outside.
"We would actually feel fairly pessimistic about the prospects for this [transition] to be successful and stable," says Prof. Michael Greig, an expert in international conflict management at the University of North Texas in Denton.
"One of the key factors for survival of a new democracy is the social cohesion of the society," says Mr. Greig, basing his conclusions on his study of 41 political transitions around the world over the last 170 years. "The more diverse the society, the less stable these new regimes tend to be," he adds, noting that Libya is a hard-to-unify tribal culture with ethnic diversity.
---