Did Kim Jong-il death ruin breakthrough deal on North Korea nukes?
Before the death of Kim Jong-il, the US was close to working out a deal to give food aid to North Korea in exchange for steps toward denuclearization. Now those talks are on hold.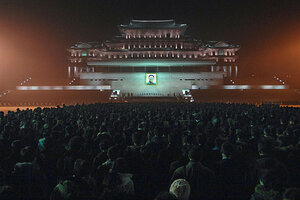 KCNA/REUTERS
The death of Kim Jong-il has disrupted an American plan to encourage North Korea to curb its nuclear arsenal, and the uncertainties surrounding the "dear leader's" replacement mean US officials have little choice for now but to sit tight.
Before the announcement of Mr. Kim's death Sunday, the US was on the verge of completing a deal to exchange humanitarian assistance for North Korean steps toward denuclearization.
But as Kim's replacement and youngest son, Kim Jong-un, tries to establish himself in his father's place, it will likely be months – and potentially tense and surprise-laden months – before the North Korean leadership will be ready to reengage diplomatically, many North Asian analysts say.
"We may be able to get back to talks, perhaps in months, but with Kim Jong-un looking to establish himself, we also have to realize that this may not be his highest priority," says Bruce Klingner, a northeast Asia expert at the Heritage Foundation in Washington.
Last week, US officials were negotiating with North Korean officials over a plan that tentatively called for the US to send a substantial amount of food assistance to North Korea in monthly shipments of 20,000 tons. In return, Pyongyang would have agreed to suspend its uranium-enrichment program, reopen its Yongbyon nuclear facility to international nuclear inspectors, and suspend any further nuclear or missile tests.
---