Iran nuclear talks: why, this time, both sides are staying positive
Iran hopes that success in nuclear talks will ease the bite of sanctions, while President Obama aims to show that his policy of tougher sanctions and diplomacy will produce results.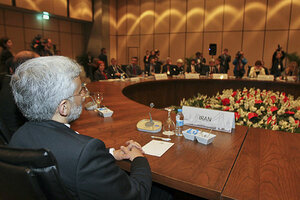 Tolga Adanali/AP
Iran on Monday sought to prolong the good vibrations from the weekend's initial meeting with world powers on its nuclear program, with the Iranian foreign minister declaring that the disputes between the two sides can be resolved "quickly and easily" at a second round of talks next month.
That may prove to be an oversimplification of what US officials and Iran experts still expect will be arduous negotiations before any diplomatic solution to Iran's nuclear ambitions can be reached.
The upbeat tone coming out of Saturday's meeting in Istanbul between Iran and the so-called P5+1 group of countries – the US, Russia, China, Britain, and France plus Germany – suits all parties to the talks. But it is perhaps especially music to the ears of President Obama, who is keen to reach November's US elections without a military confrontation with Iran.
Mr. Obama's goal over the coming months will be to demonstrate that his administration's two-track policy of diplomacy accompanied by toughening sanctions is yielding results.
A second objective, some analysts say, will be to demonstrate to a war-weary public that what Obama recently called the "drums of war" over Iran by his GOP presidential rivals were reckless and dismissive of a preferable diplomatic solution.
---