Iran nuclear talks: What world powers are offering, Iran isn't buying. Yet.
The parties to the Iran nuclear talks agreed only to reconvene, in Moscow next month. For now, any inducement short of easing sanctions is not enough to persuade Iran to relinquish its 20-percent-enriched uranium.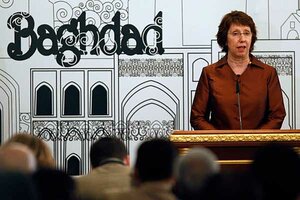 Thaier al-Sudani/Reuters
Iran has been desperate for years to acquire spare parts for its aging fleet of civilian aircraft. But does it want those parts badly enough to get them in exchange for giving up its prized stockpile of 20-percent-enriched uranium?
Apparently not. Or at least, not so far. That is one reason that talks between Iran and the US and other world powers on Iran's nuclear program ended Thursday without any agreement – except to reconvene the talks in Moscow next month.
The two days of talks in Baghdad failed to narrow differences between the two sides over how a deal easing international tensions over Iran's nuclear program should look.
Iran wants a significant easing of the existing and looming sanctions on its economy, including its life-blood petroleum industry, in exchange for any concessions. But world powers want Iran to give up its stockpile of uranium enriched to 20 percent purity – a level that can be further purified relatively quickly to the 90-percent-enriched uranium to fuel a nuclear weapon – but without any roll-back of sanctions, at least initially.
The proposal presented to Iran includes a list of other incentives, and that's where the airplane parts come in. But so far Iranian officials are scoffing at the seriousness of the proposal presented by the European Union's foreign policy chief, Catherine Ashton, who is leading negotiations for the world powers.
---