Hillary Clinton goes to sub-Saharan Africa: a counterpoise to China's sway?
The Secretary of State was in Senegal Wednesday, kicking off a six-nation trip to sub-Saharan Africa. Hillary Clinton will highlight Africa's economic and political progress – and try to define what Obama means by 'partnership, not patronage.'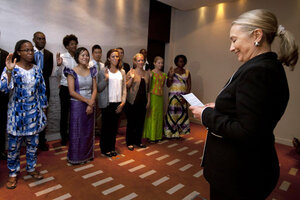 Jacquelyn Martin/Retuers
Secretary of State Hillary Rodham Clinton may confront a sentiment that the United States is arriving a little late to Africa's dance as she undertakes a 10-day, six-nation sub-Saharan trip to spread President Obama's "partnership, not patronage" Africa policy.
The Obama administration came into office pledging a new relationship with Africa focused more on private investment, democracy-building, and security cooperation than on handouts. But America's own economic troubles and its focus on Asia have meant the new policy has been more one of words than action, some Africa experts say.
One result is that China has been left to solidify its place as the preeminent major-power investor in Africa at a time of rapid growth across much of the continent.
"The [Obama] administration is coming a bit late – even with this new strategy there's a sense that … it's really not sufficient," says Mwangi Kimenyi, director of the Africa Growth Initiative at the Brookings Institution in Washington. "There's a disappointment in terms of what could have been done."
---