Hillary Clinton in Asia: Are US goals on China realistic?
Hillary Clinton's six-nation Asia-Pacific tour is all about China and making the rising power a good global citizen. But some Asia experts say Beijing may not see its interests and US goals lining up.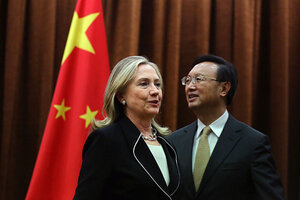 Feng Li/AP
Hillary Clinton's 11-day Asia-Pacific tour will take in six countries by the time she arrives in Vladivostok, Russia, on Saturday, but the trip is all about China.
In her meetings in Beijing Tuesday and Wednesday with senior Chinese officials, including President Hu Jintao, the US secretary of state is addressing issues ranging from competing territorial claims in the South China Sea to Syria, Iran, and North Korea.
But the over-arching theme of the Beijing visit, as for much of the rest of the trip, is the Obama administration's long-term objective of seeing a rising China emerge as a responsible and contributing leader in international affairs, and as a force for stability and prosperity – rather than for conflict – in the resource- and trade-rich Southeast Asia region.
The problem Secretary Clinton confronts in Beijing, and that the US faces more broadly, is that China does not see that its interests and the goals of the United States line up, some Asia experts say.
"The heart of the effort of this administration, and to be fair, of previous administrations, has been to tell the Chinese what their interests are … and then to think that perhaps we could bring the Chinese around to seeing the world as we do," says Dean Cheng, a research fellow at the Heritage Foundation's Asian Studies Center in Washington.
"The flip side," he adds, "is that the Chinese have a pretty good idea of what their interests are, and those interests very often do not align with those of the United States."
Those differing interests are likely to surface over two key topics of Clinton's visit: the mounting tensions over territorial disputes in the Asia-Pacific region, and particularly in the South China Sea, and Syria.
---