Ally no longer? Obama weighs options in post-Arab Spring Egypt.
Egyptian President Mohammed Morsi's slow and tepid response to protests targeting the US embassy confirmed Washington's worries: The US-Egypt relationship is entering a testing phase.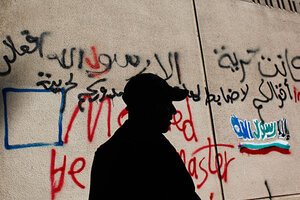 Nasser Nasser/AP
Tensions in US-Egypt relations, which have spilled into the open amid continuing anti-American protests in Cairo, suggest two friends facing uncertainties following deep changes in their relationship.
President Obama said earlier this week that Egypt under its new Islamist leaders is "a work in progress" – expressing the doubts that Washington has felt since the June election of Egyptian President Mohammed Morsi, who has ties to the Muslim Brotherhood. Mr. Obama added that while US would not "consider [Egypt] an ally,... we don't consider them an enemy," either.
Meanwhile, Mr. Morsi has looked like something less than a steadfast friend in failing to act quickly against the protests sparked by a low-budget video made in America that denigrates the Prophet Muhammad. When he did speak, he seemed to offer only a tepid rebuke of anti-US violence.
Even before this week's protests erupted, Morsi was treading a delicate balance between domestic pressures to show resolve with the US and the strategic reality of Egypt's dependence on the US.
Morsi will have an opportunity to demonstrate how he is walking that line when he visits the US later this month. But his response to the protests is only one among several pieces of evidence suggesting that, while Morsi knows he cannot afford to alienate the US, he would also like to loosen Egypt's bonds to the US and make the US-Egypt relationship less exclusive.
---