Iran's Ahmadinejad touts 'new world order' not led by 'arrogant' powers
President Ahmadinejad of Iran, speaking at the United Nations, criticized the existing model as unfair, militaristic, and the reason 'uncivilized Zionists' are threatening his country. He did not address the reason for those tensions – Iran's nuclear program.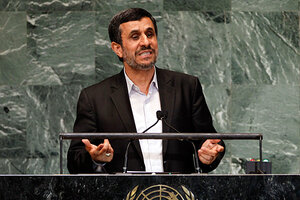 Jason DeCrow/AP
Despite the clock ticking down to military action against his country, Iranian President Mahmoud Ahmadinejad largely ignored current events in his United Nations speech Wednesday and chose instead to call for a "new world order" free of the domination of the ruling big powers.
In what was the controversial leader's eighth and last UN speech as Iranian president, Mr. Ahmadinejad laid the world's misery at the feet of the "arrogant" few powers who rule from the UN Security Council, and offered the Non-Aligned Movement, which groups more than 120 developing countries, as a better model for governing the world.
Iran holds elections in June, and Ahmadinejad is barred by the Constitution from seeking a third term.
Ahmadinejad did refer once to Israel and to the international crisis over Iran's advancing nuclear program, saying the unfair and militaristic global system is what led to "the uncivilized Zionists threatening military action against our great country."
In years past, the Iranian leader's provocative pronouncements – denying Israel's right to exist, doubting that Islamist terrorists carried out the 9/11 attacks – have prompted walkouts by delegations as he spoke. This year Ahmadinejad stood before a hall about three-quarters full, with the Canadian delegation one of the few to walk out.
The US announced beforehand that it would not attend the speech in protest of comments Ahmadinejad made earlier in New York rejecting Israel's legitimacy, and because the speech fell on a Jewish holiday.
---