Benghazi attack: Will Senate inquiry be a factor in presidential election?
Senator Lieberman says his committee will try to 'find out what happened and why' in the Benghazi attack, but panel staff say the information-gathering stage is unlikely to be finished by the election.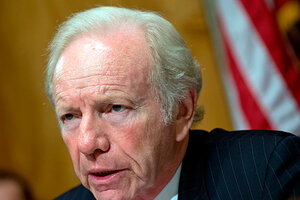 J. Scott Applewhite/AP/File
In the midst of intense politicization of the Sept. 11 attack on the US Consulate in Benghazi, Libya, a Senate committee has announced it will conduct what it assures will be an "independent, bipartisan" inquiry into the deadly assault.
The Benghazi attack is expected to dominate whatever portion of Tuesday night's televised debate between President Obama and challenger Mitt Romney veers from the economy to US foreign policy.
Sen. Joe Lieberman (Ind.) of Connecticut says his Homeland Security and Government Affairs Committee will try to "find out what happened and why" and to determine factors ranging from "threat awareness" before the attack to the adequacy of security provisions for US diplomatic personnel in Benghazi and in Libya as a whole.
Noting that four US diplomats, including the ambassador to Libya, Christopher Stevens, lost their lives in the terrorist attack, Senator Lieberman and ranking committee member Susan Collins (R) of Maine said, "Those four men, their loved ones, and the American people deserve a full and fair accounting of why and how that tragedy occurred."
---