Behind the US gambit to seek new anti-Assad leadership in Syria
The US pulled its support from the opposition Syrian National Council, based in Paris, this week – a signal that the Obama administration plans to put more stock in rebel forces fighting the Assad regime on the ground.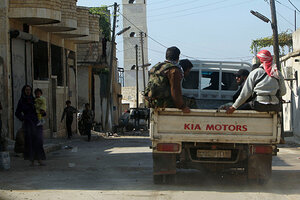 Asmaa Waguih/Reuters
With the Obama administration giving up on the exile-heavy Syrian National Council and seeking creation of a more inclusive and representative opposition leadership, some of Syria's rebels wondered aloud, "What took them so long?"
But the truth is that Washington has become increasingly disenchanted with the Syrian National Council, or SNC – exasperated by infighting among leaders in the Paris-based organization even as rebels fighting the regime of President Bashar al-Assad and local leaders stuck out the war on the ground. But it had held back from real censure in the hope the SNC would right its own ship.
That changed abruptly Wednesday, when Secretary of State Hillary Rodham Clinton in effect handed the SNC a pink slip. She said the US is looking for a new set of leaders to take Syria's helm into what the US insists is the coming post-Assad period.
"This cannot be an opposition represented by people who have many good attributes but have in many instances not been inside Syria for 20, 30, or 40 years," Secretary Clinton said in the Croatian capital of Zagreb. "There has to be a representation of those who are on the front lines fighting and dying today to obtain their freedom."
---