Obama chooses John Kerry for secretary of State. How might he do?
President Obama is expected on Friday to name Sen. John Kerry to replace Secretary of State Hillary Clinton. He'd come with his own pet issues – as well as a reputation as a patient negotiator.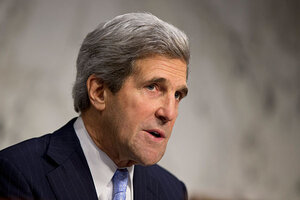 J. Scott Applewhite/AP
As a Democratic presidential candidate in 2004, John Kerry was an ardent advocate of arms control – a position he would later use to help President Obama win ratification of a new nuclear arms reduction treaty with Russia.
In Congress, the senior senator from Massachusetts has championed climate-change legislation, ranking the issue in the very top tier of the nation's international challenges.
On Friday afternoon, Mr. Obama will nominate Mr. Kerry to succeed Hillary Rodham Clinton as secretary of State. If he is confirmed, Kerry might give those two foreign policy priorities a higher profile.
While a secretary of State's job is to carry out the president's foreign policy, the holders of the nation's top diplomatic office find ways to boost the issues that are important to them. And so Kerry is expected to place special emphasis on his own policy priorities if he becomes Obama's second secretary of State.
Most officials, foreign-policy experts, and friends who have watched Kerry in action say he has demonstrated the diplomatic traits – the patience, perseverance, artfulness, and stature – required to further the president's international priorities and to successfully represent America to the world.
"What you see with John Kerry is what you get: He's a serious, very articulate man, and he has the stature to really further America's interests," says Sanford Katz, a family law professor at Boston College who taught Kerry, a 1976 alumnus of the law school.
---