Benghazi investigation falters amid fear of militant reprisals
A four-month investigation is reportedly turning up links between Al Qaeda groups and the Sept. 11 attacks on the US diplomatic mission in Benghazi, Libya. But as Libyan investigators fall prey to harm, concerns rise that the probe may be derailed.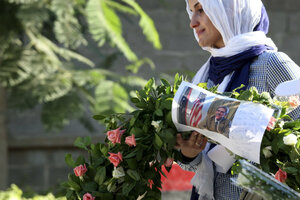 Mohammad Hannon/AP/File
The release in Tunisia Tuesday of a suspect in the Sept. 11 terrorist attack on the US diplomatic mission in Benghazi, Libya, is a reminder of the frustrations piling up for US officials as they try to bring to justice the perpetrators of an assault that resulted in the death of four Americans, including the US ambassador to Libya.
Four months after President Obama told the world from the White House Rose Garden to "make no mistake, justice will be done" in the Benghazi case, the investigation continues to hit hurdles like Tuesday's release in Tunis "for lack of evidence" of Ali Harzi, a Tunisian with links to North African militant Islamists who was at the Benghazi mission during the attack.
The accumulating setbacks range from intimidations – including kidnapping and killing – of Libyan law enforcement officials with any role in the investigation to a breakdown of judicial authority in eastern Libya and rising sympathies across the region with Islamist influence, if not Islamist militancy.
The latest blow to the Benghazi criminal investigation comes as some members of Congress vow to hold up action on President Obama's national security agenda until they get answers from the administration about the Benghazi attack – including why the US mission was so lightly protected in a region of Libya known to be falling under the influence of militias and militant Islamist groups.
Influential Republican Sen. Lindsey Graham of South Carolina said Tuesday he would push to hold up Mr. Obama's nomination of White House counterterrorism adviser John Brennan to head the CIA until the administration provides answers on Benghazi.
---