Hugo Chavez era ends: Will US-Venezuela relations improve?
Hugo Chavez passing may intensify the US dialogue with Venezuela on several key issues, including counterterrorism and energy. But many expect healing to take time.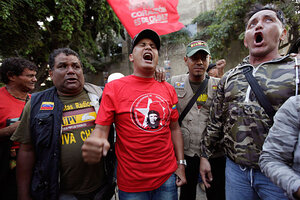 Ariana Cubillos/AP
The passing of Hugo Chávez removes one of the prickliest thorns in US relations within its own hemisphere and could portend brighter days for US-Venezuela relations – eventually.
But any warming in ties won't happen overnight, especially after the Venezuelan government accused the United States, on the same day Mr. Chávez died, of having a hand in causing his demise.
Yet as the United States and Venezuela move on from more than a decade of rocky relations that correspond to Chávez's 14 years as president, one short-term move that the two countries could make to symbolize a turning of the page would be to again send ambassadors to each other's capitals, some regional experts say.
The US and Venezuelan embassies in those capitals have sat without ambassadors since 2010, when each government rejected the credentials of the other country's ambassador. Diplomatic relations were even severed for a short period beginning in September 2008.
Yet even if ambassadors are exchanged in the coming weeks or months as a goodwill gesture, no one expects tensions to evaporate from the relationship overnight. Any doubts about that were erased Tuesday when Venezuelan officials expelled two US diplomats it accused of conspiring to destabilize the government.
Chávez may be gone, but his supporters will still have their hands on the country's levers of power, Venezuela analysts say – and could keep them there for some time to come.
And the fiery-tongued leader's anti-American rhetoric won't lose its influence any faster than will suspicions about US intentions, some regional experts predict.
---