Rio gang-rape spotlights problem faced by developing-world cities
The gang-rape ordeal the American woman and her companion endured puts a focus on safety issues as Rio leaders prepare to host both the World Cup and Summer Olympics.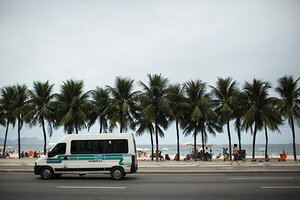 Felipe Dana/AP
The brutal gang-rape in a Rio de Janeiro transit van of a young American woman reportedly in Brazil to learn Portuguese raises troubling questions for a gorgeous but violence-plagued city trying to remake its image before it takes the world stage next year.
Rio de Janeiro, Brazil's postcard-perfect metropolis of famed beaches like Copacabana and Ipanema, is set to host the World Cup in 2014 and the Summer Olympics in 2016.
But the terrifying six-hour long ordeal the woman and a male companion endured Saturday night on one of Rio's thousands of poorly regulated transit minivans presents a nightmare for city leaders.
Reminiscent of a similarly horrific attack and gang-rape on a bus in Delhi last December, the Rio attack casts a spotlight on the problem in many developing-world cities of loosely regulated independent transportation options that can expose local riders – and unwitting tourists – to violence, organized crime, and corruption.
And as growing numbers of American college students and other first-world travelers expand their overseas horizons beyond the Western capitals like Paris and London that they tended to stick to in the past, more of them are encountering the same safety risks that local populations have faced for decades.
The Saturday night attack began when the American woman and her companion boarded a transport van in Rio's touristy and upscale Copacabana district. The van's drivers first beat both the woman and the man, then handcuffed the man and proceeded to take turns raping the woman. The drivers reportedly stopped occasionally to purchase gasoline and alcohol and to withdraw cash at ATMs using the victims' cards, before releasing the victims early in the morning.
---