Chemical weapons in Syria? What Obama's high bar for proof could mean.
Three key US allies – Britain, France, and Israel – have said Syria has used chemical weapons in its civil war, but the US, wary of intervening in the conflict, is calling the evidence 'inconclusive.'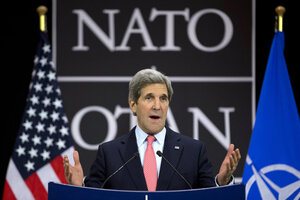 Evan Vucci/Reuters
The US reluctance to join with three key allies – Britain, France, and now Israel – in concluding that Syria's Bashar al-Assad has used chemical weapons in his country's civil war confirms President Obama's consistent wariness about US intervention in the two-year-old conflict.
Beyond that point, however, former officials and analysts are split over why Mr. Obama is so cautious about the issue – he even refused to answer a reporter's question on the topic Tuesday – and what the apparently high bar the administration has set for evidence of chemical weapons use means.
"It's a hard call as to whether the administration is trying to avoid something, or if they just don't have the evidence," says Wayne White, a former State Department official with experience in Middle East intelligence.
Obama has said repeatedly since last August that Syria's use of chemical weapons is a US "red line" and would be a "game changer" for the US. But now some critics say the president's caution suggests a moving or "fuzzy" red line.
---