Did detained American's Christianity scare North Korean regime?
North Korea's sentencing of a detained American to 15 years hard labor could be an attention-getting ploy. But Kenneth Bae is a devout Christian, and 'the regime is scared to death of Christianity.'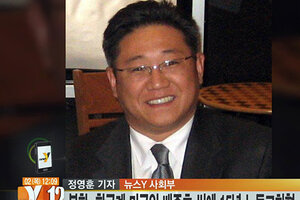 Yonhap/Reuters
North Korea's sentencing on Thursday of a US citizen to 15 years of hard labor could be a ploy by leader Kim Jong-un to get a high-profile American visit and burnish his leadership standing.
But there may be another explanation for what is the toughest sentence ever handed to an American by a North Korean court, some North Asia analysts say. Kenneth Bae, the Korean-American arrested in November 2012 and accused of attempting to overthrow the government, is a devout Christian.
"The regime is scared to death of Christianity," says Michael Green, a former senior director for Asia on the National Security Council.
Mr. Bae, a tour operator from Washington state who was living in a Chinese city near North Korea, was charged with carrying out "hostile acts" against the state that included having unspecified materials in his possession that prompted the accusations of planning the overthrow.
Was Bae carrying a Bible when he was arrested? The North Korean regime is particularly harsh with anyone found with a Bible, says Mr. Green, now the senior vice president for Asia at the Center for Strategic and International Studies in Washington.
---