Will Obama reconsider arming Syrian rebels? This week could be key.
President Obama has long been loath to arm Syrian rebels, worried that the weapons could fall into extremists' hands. But with the rebels faltering, he could reconsider.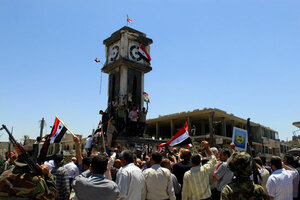 Rami Bleibel/Reuters
With the tide in Syria's civil war showing signs of shifting in favor of President Bashar al-Assad – especially as thousands of Hezbollah fighters have poured into the country in recent months to fight on the government's side – the Obama administration is taking a fresh look at arming Syria's rebels.
President Obama could decide as early as this week to alter his Syria policy and shift from providing only nonlethal assistance to providing weapons to carefully vetted moderates among Syria's disparate rebel groups, administration officials say.
That may sound familiar, since some administration officials have asserted privately since shortly after Mr. Obama's reelection in November that a decision to arm the rebels was imminent. Closer to the truth is that a heated debate over the advantages and drawbacks of arming the rebels has continued in the White House since the US election.
The debate is likely to continue this week, as some officials are expected to advocate imposition of a no-fly zone over arming the rebels. Susan Rice, the US ambassador to the UN whom Obama has just named to replace Tom Donilon as his national security adviser, is said to favor a no-fly zone – an option other administration officials insist is unlikely to win presidential favor.
---