Iran election: What does Hassan Rohani mean for the United States?
Iran's new president Hassan Rohani is considered a reform-minded moderate. But ruling clerics and the Revolutionary Guard remain in control of Iran's nuclear program and foreign affairs – including its close relationship with the regime of Bashar al-Assad in Syria.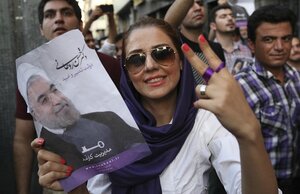 Vahid Salemi/AP
The United States is taking a wait-and-see attitude toward Iran's election of Hassan Rohani, generally perceived as the moderate, reformist candidate and the surprisingly clear winner in Friday's presidential vote.
Initial statements from the White House and the State Department are cautiously welcoming.
"We admire the courage of the Iranian people who went to the polls and made their voices heard in a rigidly controlled environment that sought to limit freedom of expression and assembly," said Secretary of State John Kerry. "We remain concerned about the lack of transparency in the electoral process, and the attempts to censor members of the media, the internet, and text messages. Despite these challenges, however, the Iranian people have clearly expressed their desire for a new and better future."
Would that "new and better future" include changes in policy as it applies to regional security and a relationship with the United States that has remained tense since the Islamic revolution of 1979 overthrew Mohammad Reza Shah Pahlavi?
The US will watch closely for any change to Iran's nuclear policy and also to its support for the regime of Bashar al-Assad in Syria.
While Rohani's victory puts him in charge of an executive branch that traditionally has taken the lead in handling the economy, nuclear efforts, defense, and foreign affairs remain primarily in the hands of the ruling clerics and their powerful protectors, the Revolutionary Guard, the Associated Press noted Sunday.

Rohani, a former nuclear negotiator, has called for reaching out to the international community but has little authority over Iran's nuclear activities tied to sanctions.
---