Obama, off to Africa, aims to reenergize US role there. Is time ripe?
President Obama will emphasize benefits of partnering with the US on economic and social development, during his three-nation trip to sub-Saharan Africa. Rising disillusionment with other partners, such as China, may make that idea a slightly easier sell, experts say.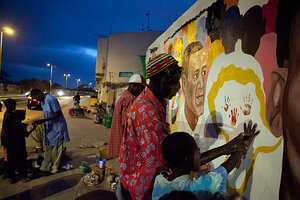 Rebecca Blackwell/AP
President Obama departs Wednesday on what is only the second trip of his presidency to sub-Saharan Africa, touting a development model that promises American investment in everything from food production to natural-resources extraction while also emphasizing democracy, anticorruption efforts, and strengthening the rule of law.
It's what the White House calls a "partnership model." And, at least on paper, it stands in stark contrast to the model of China and other countries hungry for Africa's resources and keen on taking part in its economic development, but who make few demands on Africa's leaders for political reforms. In recent years, China has roared into Africa with billions of dollars in investments – in mining, transportation infrastructure, energy – while leaving issues of political and social progress largely on the sidelines.
Mr. Obama's job over his seven-day, three country trip – with stops in Senegal, Tanzania, and South Africa – will be to convince the political leaders, entrepreneurs, and young Africans he meets that, in the long run, the model the US proposes will serve more Africans and contribute more to the continent's stability and prosperity. Five of the world's 10 fastest growing economies are in sub-Saharan Africa.
But first, many Africa experts say, the US president will have to convince a continent that America, which has largely sat out Africa's recent impressive economic growth, really is ready to get back in Africa's game.
---