Israel greets Kerry with settlement declaration. Could that signal progress?
Israel's settlement announcement would seem to be a slap at Kerry's efforts to reopen peace talks. But as one Mideast veteran puts it, Netanyahu 'takes a step backward before he takes a step forward.'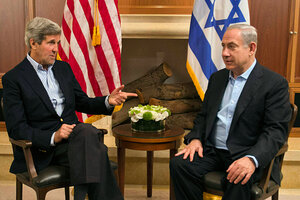 Jacquelyn Martin/Reuters
Instead of a red carpet, Secretary of State John Kerry got what might have looked like a knee-capping – in the form of an announcement of new settlement construction – for his arrival in Jerusalem Thursday.
But what under other conditions might have looked like a deliberate sabotaging of Secretary Kerry's laser-like – and some say, quixotic – efforts to restart Israeli-Palestinian peace talks is being viewed by some regional experts as a sure sign that Kerry may be on the verge of succeeding.
"Kerry has a good chance of announcing the resumption of talks, if not on this trip then on the next, and the tell-tale sign for me is this announcement" of a new 69-unit settlement in a sensitive neighborhood of East Jerusalem, says Aaron David Miller, a former US diplomat for both Republican and Democratic administrations who is now vice president for new initiatives at the Wilson Center for International Scholars in Washington.
How?
"Bibi [Israeli Prime Minister Benjamin Netanyahu] always takes a step backward before he takes a step forward," says Dr. Miller, who, with his long experience in peace-process diplomacy, is not given to overly optimistic assessments. "So an announcement of a project like this practically on the day the secretary of state is arriving, that tells me something is coming."
Secretary Kerry was scheduled to have a private dinner Thursday evening with Mr. Netanyahu, the opening of two days of discussions with Israeli and Palestinian officials. It is Kerry's fifth trip in as many months to try to jump start the moribund peace talks – a quest Kerry has counted as one of his top priorities since he left the Senate to lead the State Department in early February.
---