Zero US troops in Afghanistan: real possibility or negotiating tactic?
It's called the 'zero option' – virtually no US troops in Afghanistan after 2014. Whether it would advance US security aims is debatable, but it arises again as Obama and Afghanistan's Karzai butt heads over terms of keeping American forces on scene.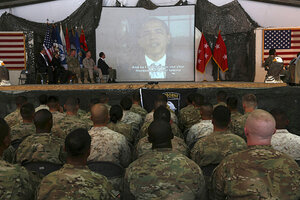 Omar Sobhani/Reuters
The United States has two main objectives in Afghanistan after the US-led NATO mission ends in December 2014: to prevent Al Qaeda and other terrorist elements from regaining a toehold there from which to operate, and to continue training and building Afghan forces so they can maintain the country's security and stability.
So then why does the notion that the US would leave no residual US forces continue to pop up, even as US officials and Afghan President Hamid Karzai undertake difficult negotiations over America's post-2014 presence? It's called the "zero option" – and it's getting fresh attention now for two key reasons, some US officials and Afghanistan analysts say.
One is that Mr. Obama has become more frustrated with the prickly Mr. Karzai, who in recent months has blasted the US over everything from its military tactics during ever-fewer operations to US efforts to launch negotiations with the Taliban, which the US drove out of power after the 9/11 terrorist attacks.
The other is the lesson of postwar Iraq. In that case, the US and Iraq were unable to agree on terms under which a residual US force would be stationed in postwar Iraq, and yet US officials' worst-case scenarios have not come to pass there.
The idea that the US could pursue its interests in Afghanistan, even without US troops on the ground there, has always been a possibility. The White House made that clear as far back as January, when Deputy National Security Adviser Ben Rhodes said, during one of Karzai's visits to Washington, that Obama "wouldn't rule out any option" for a post-2014 residual US force, including the zero option.
But one reason the zero option is arising now, some analysts suggest, is that the US hopes it will jar Karzai into getting serious about hammering out an agreement on a post-2014 US military presence in Afghanistan. The idea is being floated at a time of high US frustration over Karzai's negotiating stance, they note, often with disapproval.
---