John Kerry: 'Basis' reached for renewed Mideast talks; initial round in D.C.
On his sixth trip to Mideast in six months, John Kerry hailed 'significant ... step forward,' but said the Israeli and Palestinian agreement on the renewed peace talks were still 'being formalized.'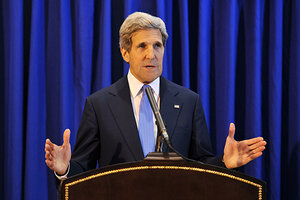 Mandel Ngan/AP
Secretary of State John Kerry was determined not to return to Washington empty-handed from his sixth trip to the Middle East in six months, and it appears that determination has paid off.
A beaming Mr. Kerry announced in Amman Friday evening before heading home after four days in the region that Israel and the Palestinian Authority have agreed on a "basis" for returning to peace talks on "final status" issues. The goal will be the formal ending of the Israeli-Palestinian conflict and the establishment of a Palestinian state.
Calling the development "a significant and welcome step forward," Kerry nevertheless hinted at the half-step nature of his accomplishment with the few details he was willing to divulge: "The agreement is still in the process of being formalized," he said, adding that if "everything goes as expected," senior Israeli and Palestinian officials will travel to Washington for "initial talks within the next week or so."
Kerry said that all sides had agreed that "we are absolutely not going to talk about any of the elements now," but that an additional announcement would be made after the initial Washington talks.
For those talks, Kerry will be joined by Israeli Justice Minister Tzipi Livni, who is in charge of the peace process with Palestinians, and chief Palestinian negotiator Saeb Erekat. An aide to Israeli Prime Minister Benjamin Netanyahu, Isaac Molho, is also expected to take part.
---