Why Iraqi request for help fighting Al Qaeda poses dilemma for US
A surge of Al Qaeda-inspired violence has Iraq seeking support – and big weapons – from the US. Counterterrorism is a US priority, but some in Congress balk at certain arms sales. One reason: bloodshed in Egypt.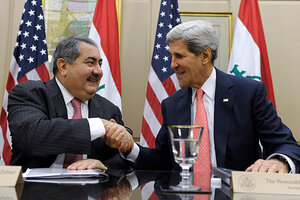 Susan Walsh/AP
Iraq is experiencing a resurgence of Al Qaeda-hatched violence – and the government of Iraq is citing a mutual terrorism threat as it seeks to strengthen security cooperation with the United States.
The US, for its part, is open to obliging the Iraqis by enhancing intelligence and counterterrorism cooperation and selling them sophisticated military systems – anxious in particular, after recent terrorist threats emanating from Yemen, to help Iraq avoid becoming another base for Al Qaeda activities that could spread to international targets.
But some critics of the government of Iraqi Prime Minister Nouri al-Maliki – some members of Congress in particular -- are saying "not so fast" to Obama administration plans not just to enhance counterterrorism efforts but also to sell the Iraqis hardware ranging from sophisticated air-defense systems to Apache attack helicopters.
For some critics, it's not so much Yemen as recent events in Egypt, where the military has resorted to bloody repression of protesting Egyptians, that should inspire caution about supplying deadly weaponry to another Middle East government that has tense relations with part of its population. Others say the US should think twice about providing sophisticated defense systems, given that Iraq has done little to prevent Iran from using Iraqi air space to transport arms to the Syrian government in a war with US-backed rebels.
Yet as Iraq comes off its worst month of terrorist violence since the darkest days of a sectarian war in 2008, Iraqi officials are emphasizing why the US should be interested in helping Iraq battle a resurgent Al Qaeda.
---