Crisis in Egypt: US seeks to preserve influence. Is there any left?
The administration's cautious approach to Egypt, far from preserving its influence, may have signaled to the military rulers that the US needs Egypt more than the reverse, analysts say.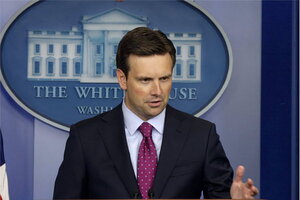 Pablo Martinez Monsivais/AP
The Obama administration's cautious approach to Egypt and the behind-the-scenes, program-by-program review it is undertaking of US military aid to Egypt suggests it is seeking a way to preserve influence with the country's new military rulers.
But that influence has dwindled to mattering very little as the military pursues its domestic political goals full steam ahead, regional analysts say. If anything, some of them add, the administration's careful efforts to preserve a decades-old regional security strategy based on Egypt may only be encouraging Egypt's generals to proceed knowing that the US needs Egypt more than Egypt needs the US.
"The administration's cautious, step-by-step approach only reinforces the thinking in the minds of the generals" that they can proceed on the "very dangerous" repressive path they've chosen under the assumption that America values a stable Egypt too much to cut it loose, says Brian Katulis, a senior analyst of US national security interests in the Middle East at Washington's Center for American Progress.
President Obama's unwillingness to publicly and definitely cut off $1.6 billion in mostly military assistance to Egypt reminds Mr. Katulis of a scene from the movie Brokeback Mountain, "where one cowboy tells the other, 'I don't know how to quit you,' " he says.
"Obama is saying by his actions that the US does not know how to quit Egypt – and the generals see that," Katulis says.
The administration's hesitant approach and its fuzzy answers to questions on current US policy toward Egypt appear to have fostered confusion Tuesday over whether or not the US has in fact halted military assistance.
An aide to Sen. Patrick Leahy, a Vermont Democrat who has called for a suspension of military assistance, was quoted Tuesday as saying the administration had informed Senator Leahy's foreign operations subcommittee that "transfer of military aid was stopped."
---