Iran and Syria on stage at UN: Real drama to replace shock theater
Two of the world's most explosive issues, Syria and Iran's nuclear program, could produce a dramatic diplomatic revival at the UN General Assembly when they take center stage next week.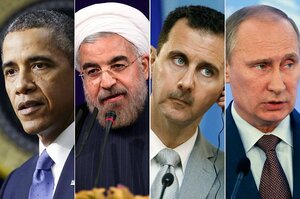 AP File Photos
Forget Broadway. The most riveting drama on a New York stage next week will be at the United Nations, as world leaders including President Obama and Iran's new president, Hassan Rouhani, address global audiences and test the diplomatic openings for addressing two of the world's most explosive issues: Syria and Iran's nuclear program.
In recent years the annual gathering of world leaders in New York for the opening of the UN General Assembly had become more of a show than a diplomatic forum – thanks in large part to Iran's former president, Mahmoud Ahmadinejad, whose version of shock theater drew boldface headlines and wide disdain but facilitated few diplomatic overtures.
But next week things should be different. Mr. Rouhani, whose six-day visit to New York begins Sunday, will take his international charm offensive to the UN dais, where he is expected to argue that Iran is ready to reach a fair accord on its nuclear program that reassures the world about Iran's intentions.
Mr. Obama, who only two weeks ago was threatening to unleash American military might against the regime of Syrian President Bashar al-Assad over use of chemical weapons in Syria's civil war, is expected to hail a barely week-old US-Russia plan to rid Syria (and the world) of its substantial chemical weapons stockpile.
---