Obama cut to Egypt aid could further weaken US influence in Mideast
President Obama is expected to announce a cut in annual military aid to Egypt, citing what he sees as anti-democratic steps. The decision could alter a decades-old alliance.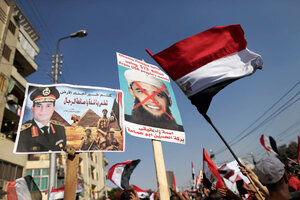 Hassan Ammar/AP/File
President Obama plans to express US frustration over Egypt's retreat from democracy since its July coup by cutting back on $1.3 billion in annual military aid – a move that would alter one of the pillars of American foreign policy and revamp relations with a key Arab ally.
Mr. Obama's decision, which apparently followed weeks of White House debate, reflects a victory for the administration's more fervent pro-democracy and human rights forces over more pragmatic voices, in the eyes of some foreign-policy analysts.
Critics of the move note that deep-pocketed Gulf states, which approve of Egypt's July 4 ouster of former President Mohammed Morsi, have been happy to step in with assistance and are likely to fill holes left by reduced US assistance, further eroding American influence in the region.
The reduction in aid has not yet been announced officially by the White House, but it has been outlined by some US officials. They say it would affect purchases of hardware such as Apache helicopters and tanks but would leave untouched aid for counterterrorism efforts in the Sinai and for border security. Those priorities reflect US national security interests and Israeli concerns about repercussions from Egypt's political turmoil. Aid for education, health, and other nonmilitary programs would also be unaffected.
---