Sparks fly in Padilla sentencing hearing
Five months after terror-conspiracy convictions, prosecutors and the defense still battle over the evidence.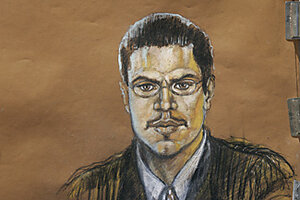 NBC News/AP/file
It took less than two days for a federal jury in August to return guilty verdicts against suspected Al Qaeda operative Jose Padilla and two codefendants in their Miami terror conspiracy trial.
But five months later, prosecutors and defense lawyers are still slugging it out over the extent to which the three men broke the law.
In a sentencing hearing now expected to stretch into a second week, US District Judge Marcia Cooke is officiating over an emotional courtroom drama unfolding between federal prosecutors determined to send the three men to prison for the rest of their lives and defense lawyers who say the government is hyping the conduct of the three beyond what has been proved.
In most criminal cases, once a defendant is convicted, meting out an appropriate punishment is a routine event. But there is nothing routine about the legal odyssey of Mr. Padilla, and codefendants Adham Hassoun and Kifah Jayyousi.
Padilla spent 3-1/2 years in military custody and was subjected to harsh interrogation tactics after being designated an enemy combatant by President Bush. The military detention was an intelligence-gathering operation aimed at breaking Padilla psychologically to force a confession while blocking access to the courts or a lawyer. When court rulings began to turn against the administration, Padilla was moved into the criminal-justice system and placed on trial in Miami.
---