Historic case may decide U.S. gun rights
Hearings on the constitutionality of a D.C. gun ban begin Tuesday. The Supreme Court is looking at the Second Amendment for the first time since 1939.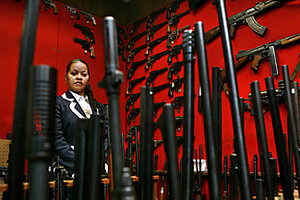 Jacquelyn Martin/ap/File
The Second Amendment guarantees a constitutional right to "keep and bear arms." What that means exactly has been a source of intense debate that stretches back to America's founding.
Some legal scholars believe the amendment protects a right to keep and bear only those firearms that are necessary for ongoing service in a state militia. Other equally distinguished scholars hold the view that the amendment guarantees individual Americans the right to possess and use firearms, even when the guns are not related to service in a militia.
The US Supreme Court is set to hear oral arguments Tuesday in a potential landmark case that could settle the question once and for all.
The high court last addressed the issue almost 70 years ago in a case called US v. Miller. But that decision left the debate unresolved.
The Supreme Court's jurisprudence has been marked by a surprising lack of clear and decisive action on the Second Amendment. As a result, many of the legal briefs in the current case instead of emphasizing prior decisions of the high court offer competing versions of American history, focusing on the debates, writings, and experiences of the nation's founding era.
An unprecedented case
It presents what Georgetown University Law Center Professor Randy Barnett calls a "clean case."
"There is really no precedent standing in the way of the court enforcing the original meaning of this provision," Professor Barnett told reporters recently. "That's what makes this a historic case. That's what makes it a case that none of us … have probably witnessed in our lifetime and may never witness again."
---